Located at 5731 Kirby Drive near The Rice Village, The Big Easy is Houston's premier venue for live Blues and Zydeco. A perennial winner of the People's Choice Award for Best Blues Venue in The Houston Press, The Big Easy features local and national touring. Live Blues can be heard six nights a week with Sunday nights reserved for Zydeco.
Mondays John Egan is bringing his amplified National, and Mondays are possessed by the spirits of bluesmen past.
On Tuesdays, The Big Easy features The Big Easy Quartet. The Big Easy Blues Jam is every Wednesday night, and on Thursdays Luther and The Healers rock the House.
The last Thursday of every month is the Houston Blues Society Jam.
The last Saturday of every month is the famous Alan Haynes.
The last Sunday of every month The Big Easy is host to the National Zydeco Foundation Jam.
A great time awaits you anytime you decide to drop in. We look forward to seeing you!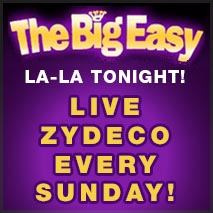 Yeah You Right!